Lockout of Port Workers cancelled
2 min read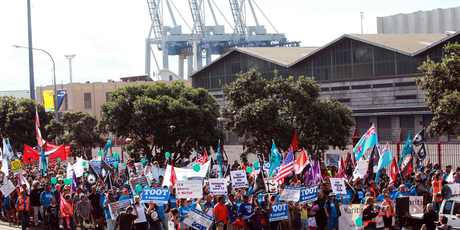 (Stuff) Ports of Auckland has just announced it has cancelled the lockout of union workers due to start on 6 April, on the basis "that the parties return to the bargaining table, and then use the facilitation process set out in the Employment Relations Act."
In a press release issued this afternoon, company chief executive Tony Gibson said the company was "acutely aware that its customers and all those in the supply chain are severely affected by this dispute and in order to lift pressure on the supply chain, POAL is lifting the lockout to get goods moving."
He said the company had not changed its determination to get "a modern and efficient port, "and that is what we will be talking to MUNZ about."
"POAL has listened to wishes of the Court, as well the views of the Mayor and all other stakeholders."
"POAL remains focussed on ensuring it is highly competitive and can stem the loss of business that the company has seen over the last decade. That will not happen if we do not change historic work practices and restrictions which are out of touch with today's reality."
"Over the last 10 years POAL has lost significant market share, this equates to around $73 million in revenue. If that trend continues over the next 10 years that would equate to a further loss in the order of $260 million," said Gibson
"Paying on average 40 hours for 26 hours worked costs POAL over $8 million per annum. This cannot continue. Work practices at the Container Port must be customer focussed, flexible and modern."
In the release Gibson said the port company was going back to the bargaining table with a fresh determination to talk to MUNZ, and get the collective the Port needs to operate competitively.
"MUNZ must be ready, willing and able to deliver modern customer service," said Gibson.
Company chairman, Richard Pearson said the Board was fully supportive of Gibson's approach and was unanimous in its view that this approach was in the best interests of the company.
-MORE TO COME