Tainui decision on Tania Martin is made
2 min read
TangataWhenua.com has heard via our Facebook contacts, that "commonsense prevailed today with Waikato – Tainui and Ngaati Maniapoto voting to retain the elected chair of Te Kauhanganui, Ms Tania Martin" (kia ora to Mihirawhiti Searancke for this panui).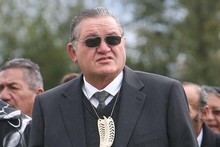 Yvonne Tahana had reported in the NZ Herald today that the extraordinary meeting was to be held today and that Te Kauhanganui would decide the fate of it's chairwoman, Tania Martin.
As a result of intense internal conflict about roles and responsibilities, fiduciary care and accountability related to the spending within some of the tribe's operating bodies, the High Court resolved that it would be Te Kauhanganui that would decide the issue, and representatives from 66 marae will vote to at Hopuhopu today affirm her leadership or elect someone else. They will also decide whether her actions have brought the tribe into disrepute.
The NZ Herald report suggested that it would be difficult for many of the representatives because they were essentially being called on to decide between their loyalty to the king and their own consciences. If this was the case than a clear signal is being sent in terms of the importance of transparency.
We understand that regardless of this decision, Tania Martin will face defamation action. Kia kaha e wahine toa…
It is not known whether the vote will be by secret ballot or open. Mr Morgan said that would be decided by Te Kauhanganui.
Her supporters say they can't understand why Ms Martin is being "demonised" for doing her job.
Tainui's executive board, Te Arataura, led by Tuku Morgan, said Ms Martin was still subject to a disputes resolution process even though she'd been fired.
Mr Morgan reiterated yesterday that Ms Martin's report was riddled with inaccuracies.
"This is about mischief making. This factually incorrect report … has caused major damage to the tribe, to Te Kauhanganui and to kingitanga because we are inextricably bound together," Mr Morgan said.
"As an individual that has been defamed I will be taking action against her."
Kaumatua Meto Hopa represents Waipapa Marae. He said he was absolutely backing Ms Martin.
"I don't know why it is that this woman has been so demonised for doing her job. Is it because she's opened a can of worms? What is Te Arataura hiding?"